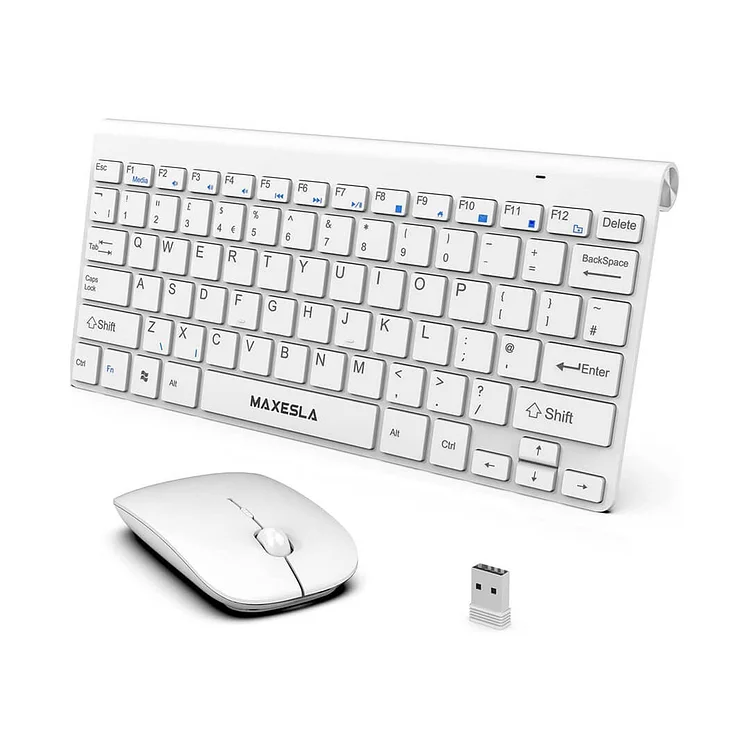 Maxesla Wireless Keyboard and Mouse Set UK




Sleek and Comfortable Design Wireless Keyboard and Mouse Set
The wireless keyboard's ultra-thin with low profile design delivers comfort and space-saving on your desk. A Cordless mouse is designed to deliver hours of comfortable use throughout the workday. And the truly UK Layout is all perfect to meet your using habit.
The wireless keyboard and mouse combo will automatically turn off when not used for a bit and easily wake up by any clicking, auto-sleep. The wireless keyboard is powered by 2 AAA batteries, the wireless mouse is powered by 2 AAA batteries (batteries are not included).
The wireless set comes built with 2.4 GHz wireless connectivity, giving you reliability plus fast data transmission, no delays/dropouts, and wireless encryption.
Setup couldn't be easier, simply plug the wireless mini-receiver into a USB port on your computer and you'll be exploring MSN, shopping on Amazon, and searching Google right away.
1x Wireless Keyboard, 1x Wireless Mouse, 1x nano USB receiver for both keyboard and mouse (stored in the back of the keyboard) and 1x user manual.
FAQ:
Q: Why do the keyboard and mouse not work?
A: Please check this Video: https://youtu.be/e_e3txPsVMI
1. Confirm that the mouse and keyboard battery is sufficient.
2. If the battery is fully charged, the keyboard still does not work, please re-enter the keyboard
Place the keyboard close to the USB receiver
Keyboard matching: Press at the same time: "Esc" and "="
The reddest light means a successful match
And then plug and play
Note: The USB receiver is in the keyboard battery compartment.