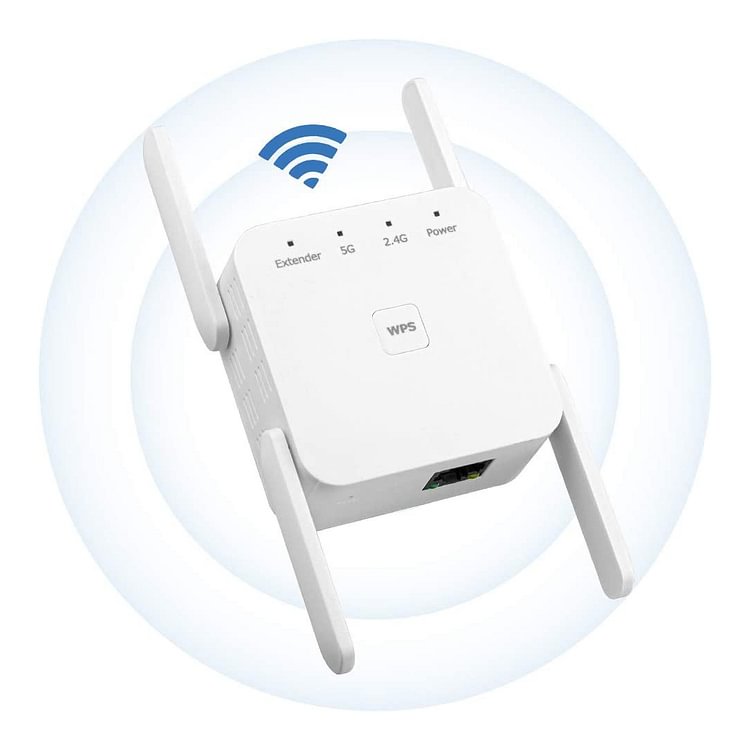 Maxesla A186 WiFi Booster Range Extender
Details:
With simultaneously extended speed of 867Mbps on 5GHz WiFi band and 300Mbps on 2.4GHz band, enjoy online 4K video streaming, multi-users gaming, music etc by connecting your WiFi devices to the internet network extended by this WiFi extender booster without buffering or Interruption.
EXTENDED WIRELESS COVERAGE
WiFi booster range extender, 4 antennas with 4 unit expansion system, light but powerful, easy to place without occupying space, can watch live on the balcony, kitchen brush recipes and games in the bedroom. Say goodbye to the blind spot of WiFi.
This wifi signal booster supports three modes for AP/Router/Repeater in order to meet the different requirements of the users. This wifi range extender also supports the one-button setup of WPS with simple and convenient connection, suitable for home, travel, office etc.
Wall plug design, making it easy to install and move the wifi booster. Press WPS button on your existing router/gateway and this WiFi extender booster, instantly extends your network coverage in few seconds. Or set up via Web browser on the computer or smart phones. (Operation guide: https://a.ei72.com/mth1)
This wifi booster works with most of the common routers on the market and complies with the IEEE802.11b / g / n / a / ac standard. Unlike most other wifi extender booster, its wifi signal can be linked by 10 devices such as IOS, Android, PC, Smart Plugs, Echo / Alexa devices and more while most extenders by only 5.


Discrete Wall Plug Design
Plug into a wall outlet for a sleek solution that extends your router's range and stays out of sight.
Connect to your existing router with one button press, connect devices to your network, and you're done.
Connect a Wired Device, Too
One 10/100M Ethernet port lets you easily connect to a nearby wired device for faster transfer and uninterrupted connection.
How to Set Up Maxesla WiFi Booster?
Step 1: Connect Repeater WiFi: Wifi-5G-XXXX,Wifi-2.4G-XXXX ("XXXX" is on the repeater body)
Step 2: Connect web: 192.168.1.88.1
Step 3: Enter login password: admin
Step 4: Connect your host wifi SSID
Step 5: Enter the host WiFi password
Step 6: Set repeater WiFi password
Step 7: Open the WiFi page
Step 8: Connect WiFi: XXXX-5G-pro (The name is host WiFi plus suffix pro)
Restore setting: Press and hold "WPS" for 8 seconds and then release, the repeater will automatically restart within 30
-40 seconds
Video: https://youtube.com/shorts/2saH6mPVg7I