The Best WiFi Adapter 2021 - Maxesla Mini 1300M WiFi Adapter
Mar 09, 2022 by Maxesla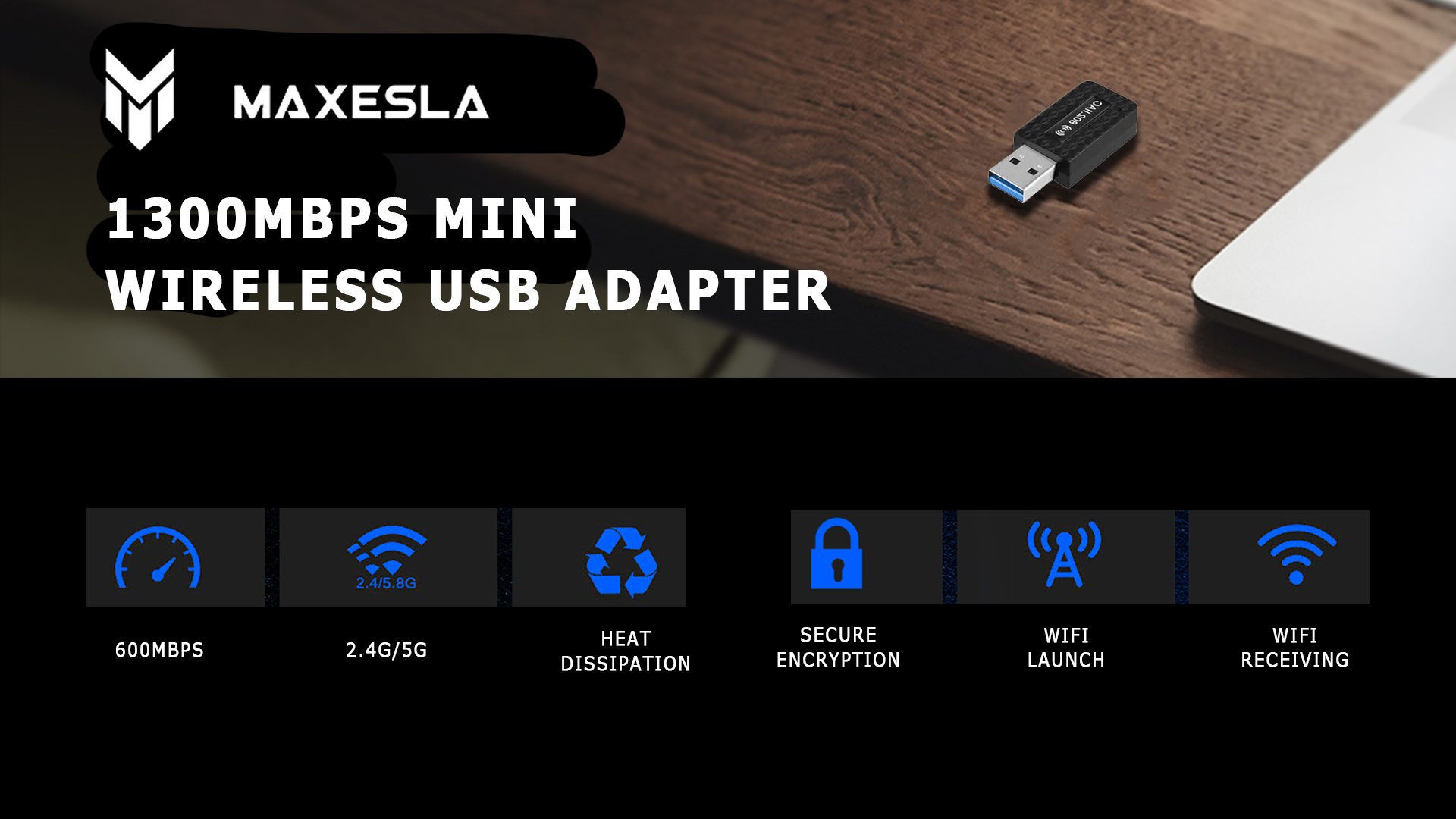 Parameters
Material: Plastic
Hardware interface: USB 3.0 Type A, 802.11 ac/b/g/n
Operating system: Mac os x, Windows
Colour: Black
Item dimensions: 42 x 19 x 9mm
Data link protocol: IEEE 802.11b, USB
Data transfer rate: 1300 Megabytes Per Second
AC1300 Dual Band Wireless USB Adapter
Wireless Standard: IEEE 802.11 b/g/n/a/ac
Wireless Speed: 802.11ac: up to 867Mbps; 802.11n: up to 400Mbps
Wireless Security: WPS/WEP/WPA/WPA2/802.1X
Support Systems: Windows XP/Vista/Win7/8/8.1/10 /Mac OS
Strong anti-interference ability
Package Including
1x AC1300 Wireless USB Adapter
1x CD Driver
1x User manual
Important Note
Please turn off the built-in Wi-Fi when using it on a laptop. ( If your laptop has built-in Wi-Fi ).
Please plug the adapter directly into the computer usb port instead of connecting to an external hub
Easy to Use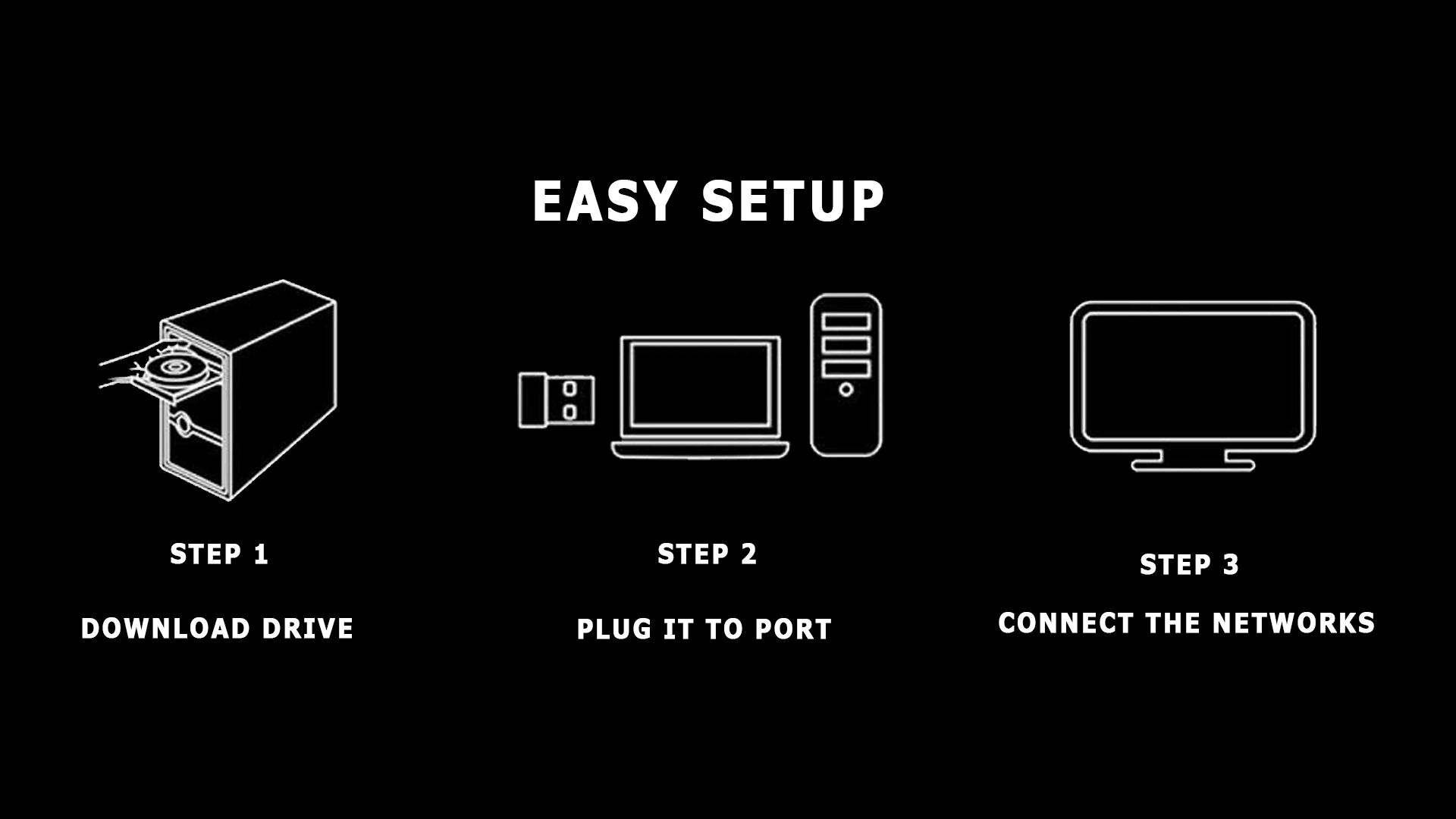 STEP 1 download drive
Install the software with the included CD or download drive from an online link we provide (https://a.ei72.com/b6zp)
SEPT 2 Plug it to port
Plug the USB wireless adapter into the PC/Laptop port
SEPT 3 connect the networks
Scan for the available networks and connect to complete the setup
Functions
Surprising Wi-Fi Speed
Wireless speed of up to 1300Mbps (5GHz/867Mbps+2.4G/400Mbps) for maximum performance. 5GHz is perfect for HD video streaming and lag-free online gaming, 2.4GHz Wi-Fi for normal use such as web surfing, music, chat online etc.
Powerful Compatibility
Compatible with Windows XP/VISTA/7/8/10, Mac OS operating system. Ultra-fast wireless adapter speed with the newest 802.11ac wifi technology, make you have a non-general web experience. Also supports AP mode, the computer's wired network can be converted to WiFi signals, so that mobile phones, laptops can be wirelessly connected to WiFi.
Works with Any WiFi Routers
By using the AC1300 USB WiFi adapter, you can upgrade your PC, laptop or Mac to work with the latest AC WiFi router for faster speed and extended range. No worry about network cabling.
Sleek Miniature Design
So small that once plugged in, can be left in a computer's USB port for easy carrying, No need to remove it after you leave your Laptop or PC.
Maxesla 1300M Mini Wireless WiFi Adapter Function Infographic