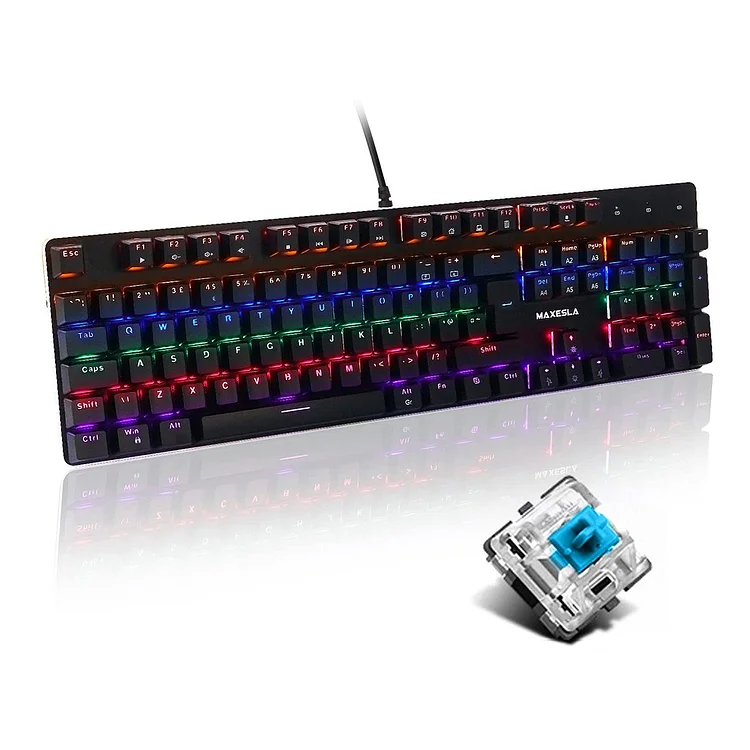 Maxesla Mechanical Gaming Keyboard
Mechanical Gaming Keyboard
The mechanical gaming keyboard with the classic Blue Switches can provide clear sound and the highest tactical feedback, and also deliver the accurate, responsive command when you are gaming and typing. The keys have a 50000000 keystrokes lifetime.
Allows multiple keys to work simultaneously with high speed. Each key is controlled by an independent switch, letting you enjoy high-grade games with fast responses, Great for gamers, typists, programmers, writers etc.
With FN+F1-F12, easy to access a calculator, email, web browser, volume, media etc. Compact dimension size down the entire keyboard and navigate it easily, it can also save space on your desk.
Rainbow Backlit & Customized Setting
The keyboard can be switched among pre-setting 22 backlit modes, and support customizing and recording 5 groups of backlit modes. The brightness and breathing speed of the backlit is adjustable to leave you an immersive gaming experience.
Wired Mechanical Keyboard is universally compatible with Windows 2000/XP/ME/Vista/7/8/10, Linux, Chrome OS and Mac OS systems. Easy to set up with your PC/Computer/Laptop/PS4. Just let the mechanical gaming keyboard be your partner and enjoy your time!