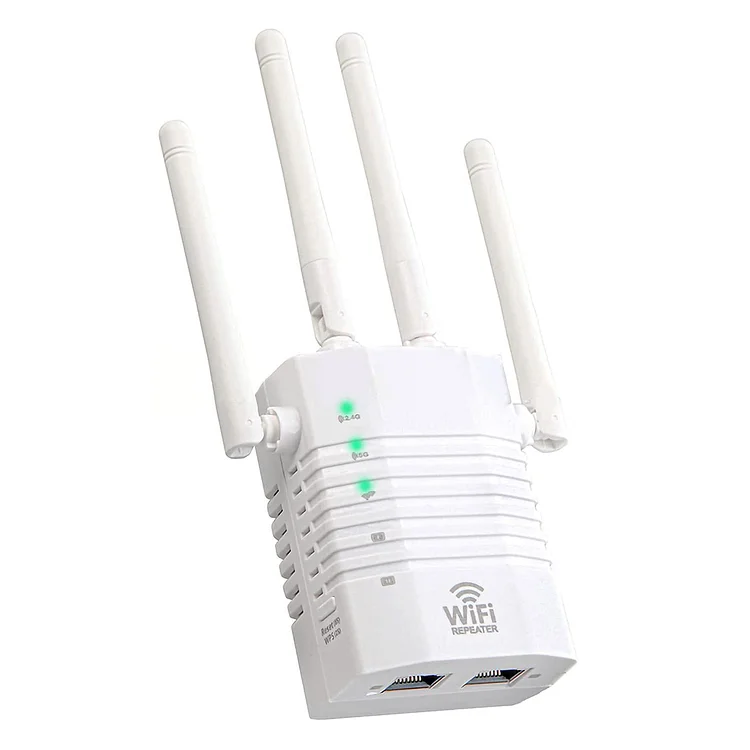 Maxesla WiFi Booster Range Extender



Detail
Extended Wireless Coverage
Boosts your WiFi Range and Connects Devices such as Smartphones, Tablets, Laptops, Speakers, IP Cameras, IoT Devices, Alexa Devices and more, by Using this WiFi Booster Range Extender.
With a Simultaneously Extended Speed of 867Mbps on a 5GHz WiFi Band and 300Mbps on a 2.4GHz Band, Enjoy Online 4K Video Streaming, Multi-users Gaming, Music etc by Connecting Your WiFi Devices to the Internet Network Extended by this WiFi Extender Booster Without Buffering or Interruption.
Simply plug in game consoles, streaming players, or other nearby wired devices using the Ethernet port for maximum speed.
2*5dBi high and 2*2dBi gain external antenna extends WiFi coverage 360 degrees with reliable data transmission rate.

Safety Protection and Security
Ventilated hole on both sides with over-voltage protection. Advanced wireless network security WPA/WPA2, WPA-PSK/WPA2-PSK. With a simple push of the WPS button or configuration via the Tether app/web UI, you can easily connect the extender to your router and extend the Wi-Fi range. You can see the video to set up it easily.



FAQ
Q1: How to connect the repeater and restart the repeater?
A1: Please read the manual, or click the operation video below.


Q2: Why is the network slow?
A2: The host needs to support 1200M and 5G signals, and the repeater needs to be connected to the host's 5G channel
Q3: Why can't I search for 5G signals?
A3: Within the 5G range of the router; the 5G signal range will be small but support faster speeds
How to Set Up Maxesla WiFi Booster?
Step 1: Connect Repeater WiFi: Wifi-5G-XXXX,Wifi-2.4G-XXXX ("XXXX" is on the repeater body)
Step 2: Connect web: 192.168.1.88.1
Step 3: Enter login password: admin
Step 4: Connect your host wifi SSID
Step 5: Enter the host WiFi password
Step 6: Set repeater WiFi password
Step 7: Open the WiFi page
Step 8: Connect WiFi: XXXX-5G-pro (The name is host WiFi plus suffix pro)
Restore setting: Press and hold "WPS" for 8 seconds and then release, the repeater will automatically restart within 30
-40 seconds
Video: https://youtube.com/shorts/2saH6mPVg7I