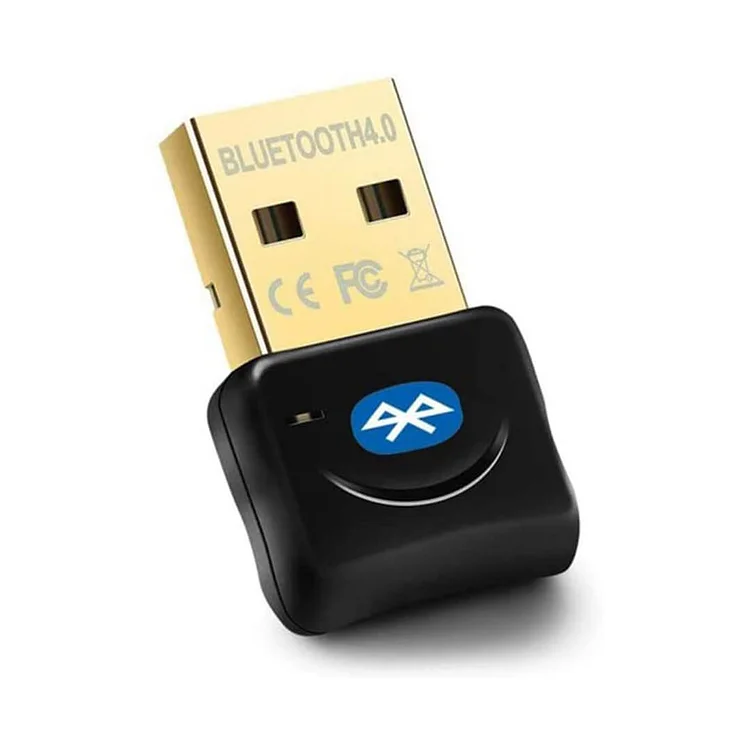 Maxesla USB Bluetooth Adapter 4.0
Parameter
| | |
| --- | --- |
| Hardware interface | USB |
| Data link protocol | Bluetooth, USB |
| Operating System | ‎Windows 10 / 8 / 7 / Vista / XP |
| Dimension | 2.6 x 1.6 x 0.6 cm |
| Weigh | 30 Grams |
| Model | A67-B |
Package Included
* 1x 4.0 Bluetooth Adapter; *1x CD Driver; *1x Manual
Learn more details
Multiple Uses
Bluetooth 4.0 USB Adapter can easily add Bluetooth features to your computer, enabling the computer to wirelessly connect to more Bluetooth devices such as Bluetooth headphones, speakers, keyboards, mouse, smartphones, tablets, printers, projectors, gaming controllers and more BLE (Bluetooth Low Energy) devices.
Enable Bluetooth Compatibility
For Windows 10 / 8 / 7 / Vista / XP Laptop or desktop computer. Turns a Non-Bluetooth PC or laptop into Bluetooth-capable. It is NOT compatible with Mac, Linux, TV or Car stereo systems.
Bluetooth V4.0 & 20m Bluetooth Signal
Maxesla Mini Size Dongle USB Stick Adaptor Latest Bluetooth 4.0 version to offer high speed up To 3 Mbps Wireless Transmitter Enables Long-Range Connectivity Up to 20m in open space. Support dual-mode, low power, simple pairing, and good anti-jamming features.
Easy to Use & Carry
USB Bluetooth 4.0 Adapter Receiver Plug and Play. Ultra-compact, Easy Carrying and Space Saving.
Before plugging the Bluetooth 4.0 USB Dongle Adapter into the USB port, please FIRST install drivers via a MINI CD disc. Once you've run the software, you can insert the adapter to get connected.
Driver Download: https://a.ei72.com/ju9p to install.