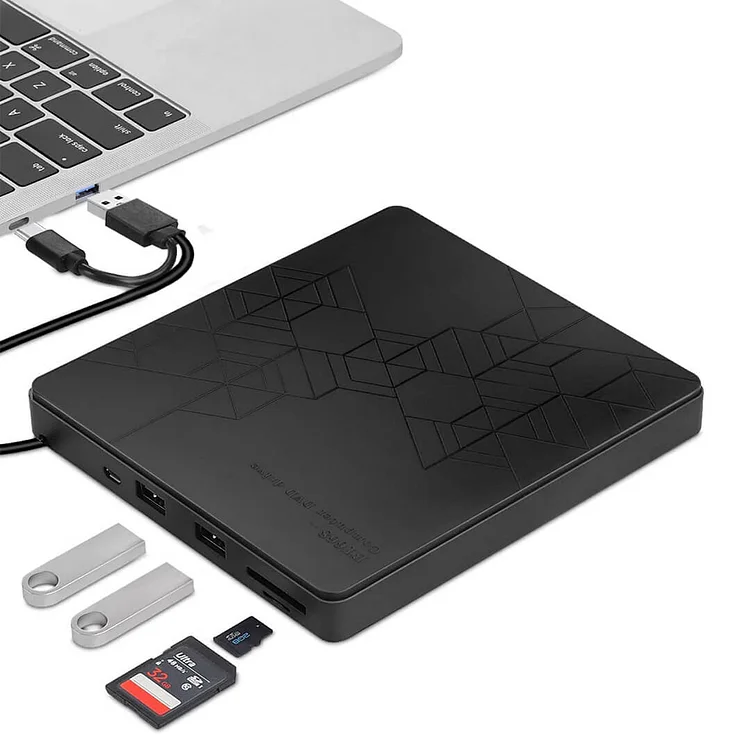 Maxesla External DVD Drive
Details
3-in-1 External DVD Drive for laptop:
With a USB 3.0 Type-C dual interface, an SD/TF card slot and 2 USB 3.0 ports design, this cd from drive external are small but powerful. No external driver and power is needed.USB 3.0 brings you 5Gbps faster data transfer speed, extra 2 USB ports can be used for plugging U-disk in and charging your phone or other electronic devices. Support SD card.
The external DVD drive for the laptop supports DVD-ROM, DVD-Video, CD-R/RW, CD-ROM/XA, CD-ROM, CD-EXTRA, and CD-TEXT. In addition, the external DVD drive also supports CD-ROM, CD-R, CD-RW, DVD-ROM, DVD-R, DVD-RW, DVD+RW, DVD+R, DVD+R DL, DVD-R DL&DVD-RAM disc format, allowing you to read CD and DVD(except Blu-ray), to burn or rewrite CD at your ease. You are available to play music, create a data backup, watch movies, copy files or install software.
No driver or other complicated installation processes are required. Plug the USB DVD drive external into a computer USB female interface, press the pop-up button and put a disc on the tray, it will be automatically recognized and played. Ideal for various devices, Windows, Linux, Mac OS system Laptop, Notebook, PC, and Desktop Computer. NOTE: Recommend connecting USB3.0 Port. Sometimes USB2.0 USB1.0 Can Not Read and you need an extra power supply with the cable in the box to make it work.
Dvd player for the laptop with a USB 3.0 port offers you a high data transmission speed of up to 5Gbps which is 10X faster than USB 2.0. CD reading and writing speed is up to 24x and 24x respectively. DVD reading and writing speed is individually up to 8x and 8x. The excellent transmission speed does your work productively.
Adopt a 100% new core, it has a strong error-correcting ability, low power consumption, noise reduction and anti-shock features. Unique appearance brings touch and sight enjoyment, compact enough to put into a briefcase and laptop bag. Suitable for office, home and also on the go.



Note:
CD/DVD drive needs to connect the extra power cable after the data cable. In case of failing to read the CD/DVD due to low power. For the laptop, please charge your laptop. For the desktop, please connect the device to the USB port of the motherboard for normal use
This is a universal CD/DVD drive burner, not a Blu-ray drive, and can not play Blu-ray discs. And this external optical drive can not work with Chrome OS and Chromebook.
This portable CD/DVD drive can not work with a TV, car, or smartphone.
Please hook up the device to the direct USB port on your computer. If you connect it to a USB hub or extension cords, it maybe cannot recognize the Driver or not read the CD/DVD.
SD card and TF card slot can not work at the same time.
You should restart the computer if the system can not read the DVD drive. It causes by the protection of the USB port.
Press the disc tray all the way, if the disc can not be read.
If the drive is not fully compatible with computers of windows 10 system due to the compatibility issues between windows 10 itself and the external hardware, We suggested that you download VLC Media player to Play DVD and CD.